Meal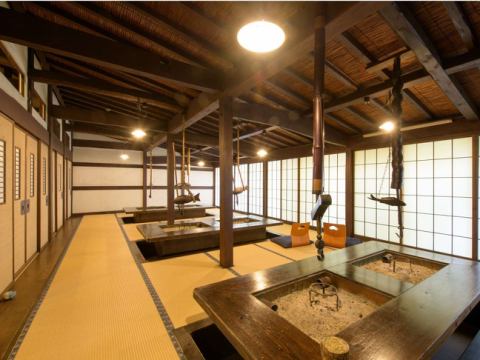 Enjoy surrounded by the hearth, enjoy a delicious specialty dish "Okaribayaki" and hot-pot dishes.

Ancient, Minamoto Yoritomo hoped to rebuild Genji here at Funahara Pass and huntered.
It is said that you baked the prey with a wildfire and drafted a plan with his colleagues while drinking alcohol.
Okaribayaki this together with the secret story of local cuisine "Okaribayaki" birth, along with "roasted rice" that brews sake Okaribayaki in bamboo cylinder with the hearth, enjoying the romance of history.

※Grilling on the hearth requires delicate technology.
The staff will provide you after cooking, but if you wish to bake yourself, please request at the time of booking.

Hearth Dining "Shiro Shikamenan"

Like the way the hearth is lined up in the space of an old private house in the Meiji era, I am relieved why he is overwhelmed by the weight of history.
Funabarakan Lord, bearing the name of the great-grandfather, you can feel the history beyond the century.
Enjoy the traditional specialties of Izu Amagi while feeling the DNA of old Japanese people.